People who use CBD need to know this!
Cannabidiol is obtained from the hemp plant and that has many people in 2019 seeking some serious ethical, moral and legal answers. Countless individuals will erroneously associate CBD use to the hippie, marijuana smoking, tree huggers, and have a distain for its users.
Of course, like anything new and unknown, sentiments will vary, yet one thing that can't go unnoticed is the plethora of benefits many individuals are claiming. As a natural homeopathic supplement, CBD oils are providing healing in various areas pertaining to health issues.
What is CBD oil and what does it have to do with you?
The acronym (CBD) stands for Cannabidiol, and is made from a separate variation of hemp, with over 85 million cannabinoids identified in the cannabis plant. Many claims have adamantly stated that CBD provides all-natural relief, with little to no side effects.
Unlike its counterpart THC, CBD can faintly induce a cerebral sensation, while still offering the many benefits of cannabis. Many people indicate that the faint CBD cerebral high is liken to a glass of wine, causing you to feel relaxed yet collected and aware.
CBD and the Endocannabinoid System (ECS)
The medical issues that CBD regulates are associated with dysregulation of the Endocannabinoid System (ECS). The ECS are receptors within your brain that regulate your immune system. When these receptors become damaged, due to unknown reasons, the ECS receptors (tiny proteins attached to cells that receive chemical signals) can't respond to pain and ailments. Think of the ECS is like a Wi-Fi router, in that it receives/translates signals so that the body can receive cannabidiol, helping to regulate pain, sleep and the immune system. Some beneficial stuff, right?
Will CBD get me stoned?
Well, it all depends. It depends on the amount of THC your CBD product contains and it depends upon what it is your seeking. You see, marijuana euphoria effects are derived from THC (Tetrahydrocannabinol). Now the confusion arises when people see that CBD comes from marijuana, however CBD is extracted from Hemp. Confusing right? I was confused to, let me delve in.
THC and CBD are both extracted from the cannabis plant, and both affect the nervous system yet in diverse methods. The misperception clarified:
Cannabis has two species:
Species 1 Male (Hemp) Comprises of 20% CBD, and less than 3% THC
Species 2 Female (Marijuana) Comprises of 10% CBD, and less than 20% THC.
Species 1 is a (Hemp) extract with all the cannabinoids excluding THC. It contains all the beneficial properties of cannabis, with no stoner high. Yet there are strains that have a hybrid mix. When consuming the hybrid version, you more then likely will be flying high. Depending on what relief your seeking, purchasing a CBD product with no hybrid blend should be enough in relieving your ailments (discussed further below).
What is the Cannabis plant?
It's a flowering plant with more than a few debatable species, however one of those species is known as hemp. Hemp is a reference used to describe cannabis cultivated for non-drug use in products such as:
hemp rope
oil
juices
lotions
medicinal purposes
milk
protein
fiber
paper
jewelry
Nevertheless, some strains have been selectively bred to yield a maximum of THC (also a cannabinoid). When cannabis is consumed, cannabinoids bind to receptors sited throughout our brains. Theses receptors are called CB-1 and CB-2. Different strains of cannabis will produce varied effects, depending on what receptors they bind to.
What is a Cannabinoid?
The chemical compounds located in the cannabis flowers, CBD and THC. The chemical composites of THC and CBD are secreted by the cannabis flower thus creating a cannabinoid. When consumed, they create responses in the human body.
How do people consume the cannabinoid substance?
Either:
smoking
vaping
topically
ingestion
Are some of the ways that cannabinoids are consumed, however I'm sure there are some creative individuals who would argue the above list.
Relief That CBD Can Provide
There is a plethora of information circulating that CBD can treat just about any illness. Some of the medical issues that CBD users are treating require prescriptions; and that has sufferers adamantly praising the substance.
Here is just a short list of some of the relief CBD users have found:
CIRCULATORY SYSTEM

reduction in coronary heart disease
increased blood flow to the brain



NERVOUS SYSTEM

seizure and convulsion reduction
anxiety relief
sleep aid
tranquility



MUSCULAR AND SKELETAL

muscle spasm suppression
promotes bone growth
inflammation reduction



IMMUNE SYSTEM

relief and protection throughout the body
kills or slows bacteria growth



DIGESTIVE SYSTEM

reduction in intestinal contractions
stimulates the appetite
Will CBD Show Up Positive on A Drug Test?
Well, it can depend on various factors such as the way the cannabis is extracted, to the way your body metabolized the substance. For example, an anonymous woman in Atlanta Georgia found the answer to our question the hard way. During an interview with WSB-TV Atlanta 2, with Anthony Laborde of Discount Nutrition in Atlanta. Laborde told the local news station during an interview that "Some people will fail. Some won't. So, we do warn police officers, firefighters, those types of people who are routinely tested for drugs," Laborde said.
The anonymous woman stated that she wished she had been previously warned. Recommended by her doctor, the anonymous woman purchased CBD oil for pain and anxiety and used the product for two weeks. Subsequent to her CBD use, the woman took a drug screening and failed. The drug test showed that the anonymous woman was positive for THC, the euphoric compound located in marijuana. The product the woman consumed, had no indication of THC on its label, however after venturing to the company's website, there was a disclaimer stating, "full spectrum CBD can cause positive results in screenings".
Consumerlab.com, a nutritional supplements corporation that's based on the internet, tests for THC and CBD compounds. They relay that up to 10 percent of CBD users test positive for THC when using the oil. "It can happen, and it also depends not just on the product, but some people metabolize CBD differently," said Consumerlab.com President Tod Cooperman. Per the ConsumerLab.com Answers section, if using a CBD product, it's not likely to fail a marijuana drug test if utilizing the standard serving sizes. In addition, studies have shown that most individuals whom consume 0.4 or 0.6 mg of THC don't test positive on marijuana urine test, yet a trivial percentage might test positive, due to individual variation in how their body absorbs and metabolizes the THC.
Side Effects of CBD
There is limited scientific evidence on the potential or subsequent side effects of CBD usage in humans.
The survey conducted by Bergamaschi et al. in 2011 on cannabidiol (CBD) safety and side effects relayed they found the safety profile of CBD favorable in the treatment of epilepsy and psychotic disorders. Furthermore, the study concluded that CBD side effects proved better than their counterpart drugs used to treat epilepsy and psychotic symptoms.
CBD and Your Dog
Say what? Yes, you read that correctly. Many people are turning to CBD for various treatments that ail their dog. Currently there is no concrete research into the benefits of CBD for dogs, however many dog owners are testing the waters and finding beneficial results. So, what are some of the symptoms being treated in dogs?
seizures
cancer benefits
neuropathic pain
anti-anxiety
reduction in fear
battle cancer
glaucoma
reduce aggression
It's a bit daunting to put the family pet to the test, yet the benefits seem to outweigh the risk. Don't fret yet over the lack of data, since the AKC Canine Health Foundation (CHF) has announced funding for Clinical Trial to Study Cannabidiol to Treat Drug Resistant Epilepsy in Dogs.
The study will be conducted by board certified veterinary neurologist whom aim to study "Efficacy of Cannabidiol (CBD) for the Treatment of Canine Epilepsy". According to Dr. McGrath, 30% of canines in receipt of standard anti-epileptic treatment remain uncontrolled for their seizures, and the side effects of the antiepileptic medications are frequently undesirable. Dr. Mary Smith, an associate of the CHF Board of Directors and the Chairman of CHF's Scientific Review Committee, says, "This study has the potential to provide a much-needed new tool for veterinarians to treat dogs with epilepsy. Good news to come for dog owners seeking more evidences and research.
Take Away, What Is the Recommended CBD Product?
So, you're probably a bit perplexed about where to purchase CBD? And subsequently reading the positive response to CBD, you may have curiosity in trying it for yourself. You may be researching online sources that offer CBD hemp oil for sale or perhaps saying to yourself, "I want to buy near me."
Whichever way, this comprehensive guide is designed to help you find the CBD product which best suits you. Before buying any CBD oil, it's vital that you check that the source your obtaining the product from is trustworthy. Take a view of the below features before jumping in:
As discussed in the above section, Hemp manufacturing is vital in the indication of quality. Think about it, you can have the best product in the land however, if the soil utilized to grow your substance is laced with chemicals, then your defeating the purpose. Soil can contain harmful substances such as:
fertilizers
herbicides
pesticides
There is a variety of ways utilized to extract hemp oil, however not every method is good. The most reliable and considered to be highest standard of extraction is the C02 method. What is the C02 method? It's when hemp is extracted using high pressure and low temperatures, eradicating harsh chemicals. The C02 method is the safest and cleanest form of extraction, ensuring CBD product quality.
Now you're probably asking yourself "then how is the extraction process normally accomplished?" Great question. Typically, CBD hemp extraction is performed using solvents such as ethanol and butane, stripping the oil of plant waxes that creates good quality CBD products.
Like any medication or food consumed, proper testing should be enforced. Testing is performed to certify quality control and sanction potency and remove impurities. For example, Medix CBDare considered the best quality in the industry, and the leading manufacturer of high-end CBD and Hemp oil products.
Feel a bit afraid of purchasing CBD due to some of the locations where the product can be purchased seem a bit shady and sketchy. No worries, Hempworx has a simple and straight forward process:
Click here link to learn more about why I recommend Hempworx, and how their CBD is processed.
About Hempworx -Meet Our Founders
Josh and Jenna Zwagil didn't begin their careers in the corporate world and then simply take the reins of a Network Marketing company. They both started out in the field as Affiliates, learning what it was like to build a network and a business. It's that field experience that has enabled them to create such a unique opportunity.

At 18, after leaving business school, Josh replied to a Craigslist ad promoting a way to earn money independently. He sold his drum kit to get the $600 he needed to start, and his entrepreneurial instincts soon paid off. With strong guidance and leadership, Josh rose through the ranks quickly to become the number one income earner with a team of over 60,000 people around the world and sales reaching $100 Million within 6 years.
From the earliest part of his Network Marketing career, Josh experienced first hand the challenges of the industry. He saw the upheaval caused by product changes, compensation plan changes, shifts in company ownership and more. This intimate knowledge of the innermost workings of the industry would lay the foundation for the next leg of his journey.

Josh and Jenna met in the Summer of 2014. They will say it was love at first sight that drew them together, but their dedication to serving others is what really cemented their relationship. They shared a vision and mission to change the world.

In November of 2014, Josh launched MyDailyChoice and, impressed with her networking skills, asked Jenna if she'd be willing to join as one of his first Affiliates. Jenna was on a mission and had a lot to prove so she dove in, head first, to build momentum the only way she knew how – through social media. She put her talents to work on the first product line, just three nutritional sprays at that time. Even before MyDailyChoice's most popular products and sophisticated marketing tools were in place, Jenna earned $3,600 in her first week.
Shortly after reaching the top of the company, Jenna became very ill. She turned to holistic health alternatives and made changes to her lifestyle. Her health improved, but something was still missing. Jenna was still getting sick after eating and the doctors informed her it was something she just had to learn to cope with because there was no cure.
In 2016 Josh and Jenna began experimenting with CBD oil after reading about its many health benefits. Jenna experienced some relief, but it still wasn't enough. Josh began searching for the purest form of CBD and found it in a farm in the US. He brought samples home for Jenna to try, hopeful it could be the missing piece in her health journey. Within a few hours of trying the oils Jenna started to feel better. Within a week her health began to restore. Within a month she started feeling like herself again.
Jenna became determined to make the same life-changing experience accessible to others. Josh was hesitant to get on board, concerned that controversy around the hemp industry would get in the way of the work they were already doing.
So Jenna went out and founded HempWorx on her own. The response to the products was immediate and overwhelming. Within months, HempWorx was so popular and successful that Josh couldn't deny that the best thing for both businesses was to merge. HempWorx was launched as a product line inside of MyDailyChoice in May of 2017. Since the introduction of HempWorx, MyDailyChoice has soared to the top as one of the fastest growing Network Marketing companies in the industry.
What is Hempworx Hemp-Derived CBD?
HempWorx products are made from industrial hemp plants grown on American farms. Cannabidiol (CBD), a constituent that naturally occurs in industrial Hemp, is just one of over 85 cannabinoids that is identified in the cannabis plant. Our oil is CO2 extracted resulting in a solvent free, pure product.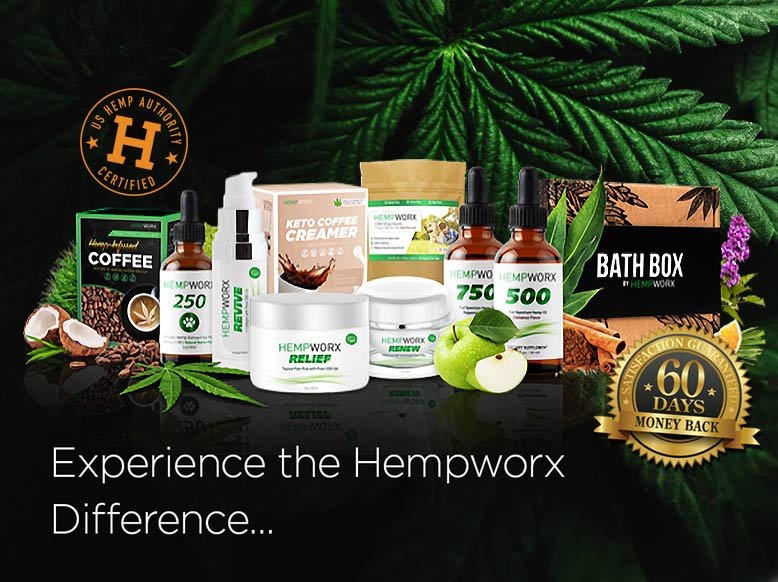 The Endocannabinoid System (ECS), an extension of our Central Nervous System, is comprised of receptors, neurotransmitters and enzymes. The ECS interacts with Cannabinoids found in the Cannabis plant and Encocannabinoids that are produced by our own bodies.
HempWorx products contain CBD and other Cannabinoids which bind to the ECS receptors leading to a positive impact on health and overall well-being.
THE HISTORY OF HEMP
Hemp has a vast history that cannot go unnoticed. HempWorx is at the forefront of what we believe, is the next revolution in American History.
Hemp is among the oldest industries on the planet, going back more than 10,000 years to the beginnings of pottery.
Americans were legally bound to grow hemp during the Colonial Era and Early Republic. The first American Flag was made from hemp.
In 1937, Congress passed the Marijuana Tax Act which effectively began the era of hemp prohibition.
In 2014, The Farm Bill allowed hemp in certain states for research. Kentucly was a key player initating the hemp movement in the United States.
In 2018, President Trump signed the 2018 Farm Bill which specified hemp (and its constituents such as CBD) as an industrial byproduct, not the be regulated or criminalized by the DEA.
U.S. HEMP ROUNDTABLE
On March 1st, 2019 the U.S Hemp Authority announced the first awards of it's certification seal to 13 outstanding companies that have met the stringent standards the industry laid out for product quality and safety. HempWorx was one of the first 13 companies to receive the certification seal. Click here to view our Hemp Authority Certification.
Click the following link to see what awaits. CBD oil
Did you get value?
If so, please share on Facebook.
Dedicated to your success,
Miss Carla
Stay Connected With Me:
email: misscarlamoore@gmail.com
Instagram YouTube Facebook
Have Questions? Click here to chat with me on Facebook
P.S. I Make Earning Money Online Easy – See How …
Did you ever wonder how people are making all this money online? Don't you wish you could be one of them? Well stop wishing because now it can happen because I can make it happen. Hempworx pays me to share my experiences with their products, see how you can do it too!